Welcome to Holy Martyrs Catholic Church in Oreland, Pennsylvania – Founded 1949
" . . . one of the elders spoke up and said to me, "Who are these wearing white robes, and where did they come from?"  I said to him, "My lord, you are the one who knows." He said to me, "These are the ones who have survived the time of great distress; they have washed their robes and made them white in the blood of the Lamb."                                 -Revelation 7:13-14
 A Happy and Blessed Thanksgiving to All.
The Parish Office will be Closed on Thanksgiving Day and on Friday. 
Regular Office hours will resume on Monday, November 30th.
---
The Papal Altar is Home!
Join us for the solemn introduction and reception of this important piece of history in our community – Mass at 5:00 PM on Saturday, November 21, 2015
---
Now in Philadelphia, Pennsylvania
Talk Radio for Catholic Life
   on 640 AM
---
---
Remember the Faithful Departed during the month of November.
All Souls Remembrance Envelopes may be placed in the Collection at Mass or in any of the Candle Offering Boxes in the Church. You are also invited to write the names of your deceased loved ones in the Book of the Names of the Dead, located in the Church.
---
Sincere thanks to Archbishop Charles Chaput for allowing us to bring the Altar on which Pope Francis offered Mass on the Parkway in Philadelphia in September to Holy Martyrs Catholic Church in Oreland, Pa.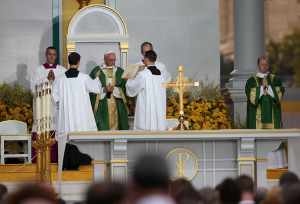 View the Photos of the moving of the Altar on the News & Events Page
Click on the picture below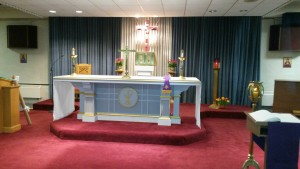 ---
Vocation Videos Produced by Joyful Films
View more films at   www.joyfulfilms.com
Visit the Office for Vocations to the Priesthood of the Archdiocese of Philadelphia at
Father Stephen DeLacy, Vocation Director for the Archdiocese of Philadelphia, describes the new vocation Initiative of the Archdiocese titled, Called by Name, in the following video
In this Vocation initiative, you are asked to submit the name of someone whom you believe would be a good candidate to consider the Priesthood.  Forms for this purpose may be found in the pews and at the Church entrances.  Considerations and instructions are on the cards.  Completed cards may be placed in the collection at Mass or in the votive candle offering boxes in the Church, or may be forwarded to the Rectory.  For more information, view the video above or log on to heedthecall.org.
---
View the Current Parish Financial Report Here
---
Restoration  of the Lower Level of the Church Building is almost completed!
The necessary restoration caused by flooding on the lower level of the Church has begun.
Click on the picture above for more information . . . Check out the progress
---
Holy Martyrs Catholic Church is the home of the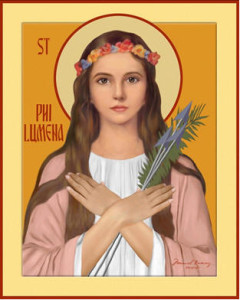 National Center of the Universal Archconfraternity of Saint Philomena in the United States
visit our website at   www.philomenafamilyusa.com
---
Visit the following links for News of the Catholic Church and Church Documents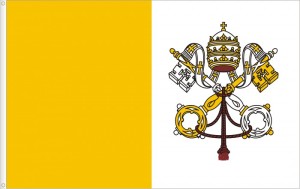 News Agency  – The World seen from Rome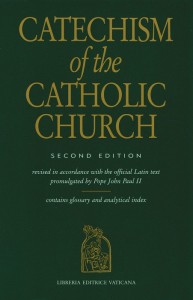 ---
Click here for information about Memorial Donations to Holy Martyrs Church
The triumphant Lamb of God, inspiration of the victorious Martyrs.
---
For information about the
Traditional Latin Mass in the Archdiocese of Philadelphia
The Extraordinary Form of the Roman Rite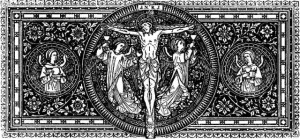 ---
Our Patrons – The Holy Martyrs of the Church of Rome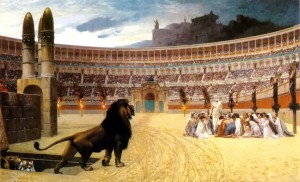 The Christian Martyrs Last Prayer
by Leon Gerome